Thread Rating:
We've upgraded our display tank to LEDs and no longer have a use for these fixtures. They're less than six months old and the bulbs are only about 3 weeks old. We paid $149.99 per fixture and they were only used 6 hours a day for less than six months. We're looking to trade them for some cool frags!  As far as frags, we're always in the market for something fun and colorful! We're located in Biddeford, ME about 35 minutes from the NH boarder.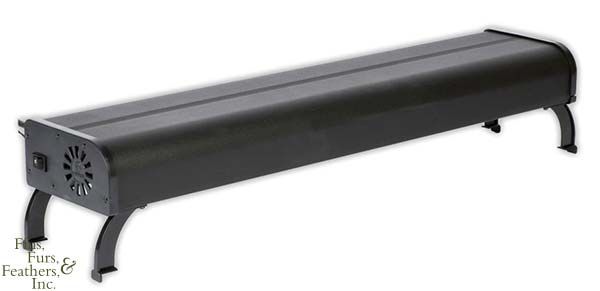 36 inch Current USA Nova Extreme 2x39 watt T5 HO 10K/460nm Information
Experience a whole new level of brightness
European style high output T5 lamps
Performance driven electronic ballast
Slim design & German parabolic reflector
Energy efficient
Simplicity by design
The Nova Extreme combines the best in both design and functionality and is a great addition to any aquarium. The sleek black-aluminum construction not only maintains a low profile on the aquarium, its design also allows it to dissipate heat away from the aquarium, lamps and components. German-style polished reflector directs over 99% of the T5 lighting into the aquarium while a polycarbonate splash lens protects lamps. Sliding aquarium mounts adjust easily to ensure a proper fit for your aquarium. Only a single power cord delivers all the lighting you need for the ultimate looking aquarium.
The ultimate in performance
SlimPaq High Output T-5 lamps offer a quantum leap in lamp performance, nearly doubling the lumen output compared to an ordinary T5, T8 or T12 fluorescent system. Using our proprietary blend of tri-phosphors, the high PAR & CRI levels produce stunning color rendition and penetrating intensity. Coupled with our finely tuned electronic driving system, SlimPaq lamps have the longest usable life-span of any aquarium lamp.
Lamp illumination
Each Nova Extreme includes two high output T5 SlimPaq lamps and sliding docking mounts.
SlimPaq Actinic T5HO (Saltwater models only) - A super actinic blue lamp emitting light energy required by corals and invertebrates, along with producing a high UV output. Outstanding color rendition that makes corals, invertebrates and fish fluoresce brilliantly.
SlimPaq Freshwater T5HO (Freshwater models only) - A bright pinkish hue lamp emits the ideal light energy and spectrum required by freshwater plants for photosynthesis. High color rendition enhances the brilliant colors in freshwater fish and brings out the lush green in plants.
SlimPaq 10,000K T5HO - A powerful, penetrating full spectrum lamp replicating sunlight found on living coral reefs. Exceptional high lumen output concentrated between 400-480nm stimulates zooxanthellae production increasing both coral and invertebrate growth.
I no this is old... but do u still have these?
Users browsing this thread: 1 Guest(s)